This review was posted on various forums a while back. I thought it might look good here. KEV --------------------------------------------------------------------------- With warm days and cooler nights in most parts of the USA. It's no secret that I start to gear up now for winter, and that usually means retiring my summer carry gear, and wanting a black holster and belt from High Noon Holsters. I've used the excellent Need For Speed OWB (black horsehide)RAMI holster in the past..
but have come to prefer HN's IWB holsters in the last couple of years. Their SLIDE GUARD is another horsehide OWB holster that's seen some use with my RAMIs, but in tan.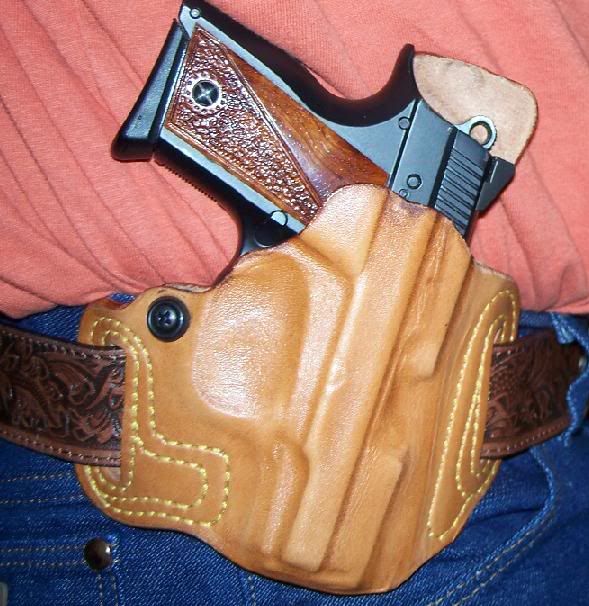 IWB works well for me as I'm not catching my holster on chairs, nor am I banging up my custom Hakans or other grips on door-jams. HIGH NOON offers what I think-are some superbly crafted and comfortable holsters in both OWB, IWB, and even paddle designs.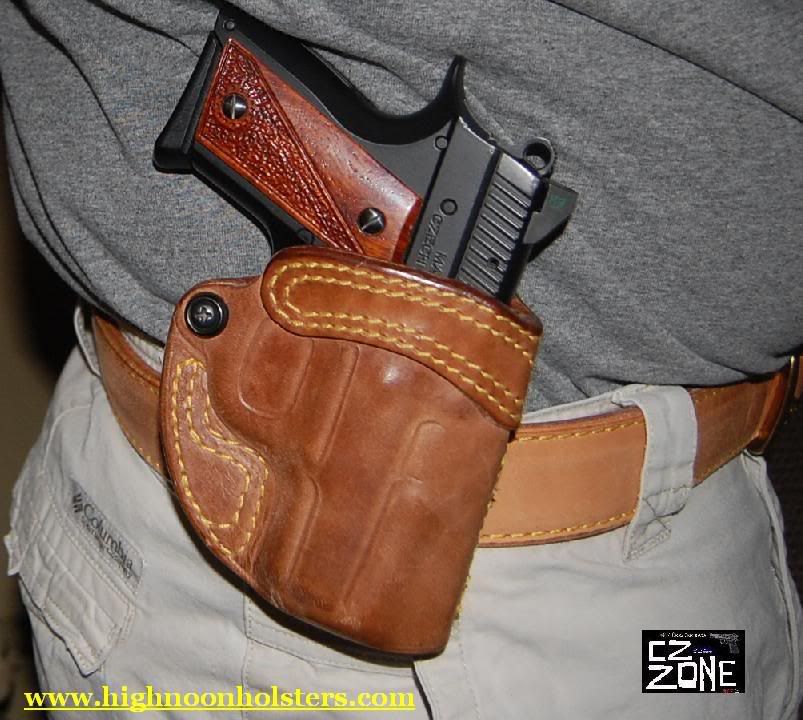 My last review was of the HN UNDER TAKER IWB in tan horsehide for my RAMI P (polymer framed CZ 2075 RAMI 9mm) and matching Tie Breaker single mag pouch on a Rock Steady Ostrich print 1 1/2 inch belt. I've been very pleased with the holster and gear so far, and really like the FBI type rake of the Under Taker that keeps the gun close to your body. One holster that I've eyed for a long time in the HN online catalog is the neat looking TAIL GUNNER IWB Model, ( high ride with straps) that uses a stabilizer wing for more support. After emailing Michael, the owner of High Noon Holsters, and requesting he send me a T.G. in black horsehide, and two matching magazine pouches, along with a 1 1/2 inch wide Rock Steady belt..all in black horsehide material.
My order arrived a week later, which is somewhhat faster than prevoious large orders from them, so I'm quite sure they were burning the midnight oil on this one! One piece of gear that I already had was the HN Key Chain that they offer.
This one in what I believe stunning elephant hide, that looks and functions as good or even better than my HN key Chain in tan horsehide that I've worn most everday since April. Dark tan, natural and even black horsehide holsters are always strikingly beautiful to me, as any custom holster should be, but other gear as well. The ROCK STEADY belt is just that. In my case- it's 42 inches of double layer perfection. Very rigid and good looking to boot!
The high quality Brass buckle and accrouments set it off. This isn't my first Rock Steady belt, but the first in black. Cowhide in this instance-but it should last me for many years! Their DOUBLE TAKE, and TIE BREAKER mag pouches are equally as well made and handsome. Both in horsehide, with the Double Take being a double mag pouch for 9mm/40 mags. The tie breaker is HN's single mag pouch. I've used one ( natural horsehide ) for right at 8 years now. Both of these mag pouches use a tension adjustment screw like the HN holsters.
You can snap the pouches on or use the belt loops with the Double Take. Well, after a couple weeks of carry. I REALLY like this holster, even if I'm shouting a bit here, it's super nice!
The TAIL GUNNER's stabilizer wing did seem to take up a bit more real estate in my waistband, than the same firm's DOWN UNDER IWB. It might just be me with this..as I'm a bit heavier these days.. but my pants are 2 inches over-sized to accomodate IWB carry, so any slight issues like this are not really any problem. I do like how Stable the entire holster is, yet not a leather (or horsehide) brick that's un- comfortable. Just a comfy as my DOWN UNDER or AJ CONCEALCO RAMI Holsters, but more rigid.
Stiching is in usual HIGH NOON form, nice and strong! This holster has an open end for any debris to fall through. It also features a leather lining for a slick/fast draw, and a sewn in SIGHT TRACK that most other holsters don't have these days.
The two straps are secred by very durable snaps. These straps are for 1 1/2 inch belts but you can order extra straps if needed ( also in black ) for this IDPA Approved, IWB holster. Yes,..everything about the holster smacks of Quality! From the very first time I slide my RAMI into it. The holster has only needed a turn of the tension adjustment screw. Myself, with over 30 years of carrying gun, I believe most any holster needs this type of tension adjustment. Especially true if we are talking about leather as it tends to stretch over the years.. if not within a few months. This holster has 2075 stamped on the stabilizer wing but no usual HIGH NOON HOLSTERS, maker's stamp is present, but clearly evident if you look at the rear of the magazine pouches. However, that doesn't seem to detract from the quality or looks of the holster one bit. Like the SLIDE GUARD and other HN holsters, esp. the IWB models. You get a SWEAT SHIELD, or what's called by HN a Slide Guard,
basically- a piece or tab of leather/horsehide that protects you from the gun' s safety or rubbing up against your skin or clothing. Most holster companies offer such a feature these days.
Strong and even stitching, an open muzzle and sewn in sight track with a sweat shield. Not to mention, very comfortable for such a rigid holster. Now..after nearly two weeks of everyday carry, still holding up perfectly! Matching mag pouch, and super nice cowhide gun belt make for a very nice carry rig. Such attributes can only attest to the quality of this High Noon holster and accessories! For pricing and more information: http://www.highnoonholsters.com/