The CZ75 P-07 Duty service pistol was introduced in 2009.
The holster body is made of black leather and all of their holsters are 100% American made.
Then you have the kydex holster shell and the kevlar stitching. My P-07 Duty (they offer holsters for other CZ models like the P-01 and newer P-09 as well) holster came with the black metal clips (installed) as shown here.
Various instructions and two set of nylon loops, one black and one in brown, along with a very detailed invoice that dictated the Ace-1 , and the "LOK LOOPS" as requested.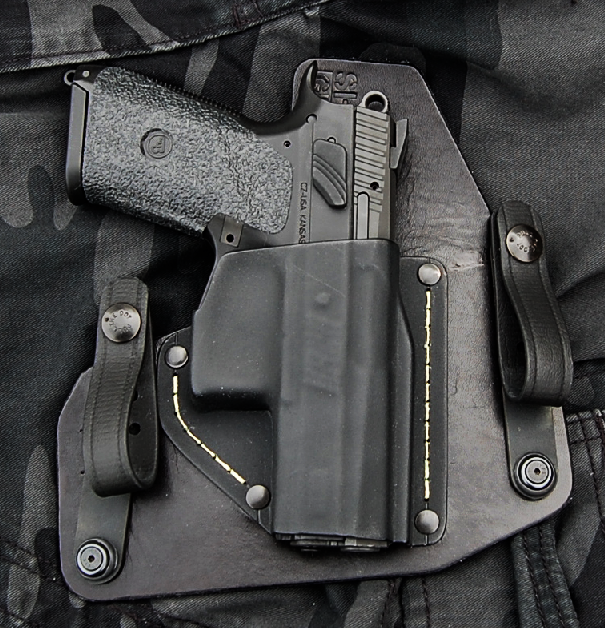 These are made of a synthectic mesh material and seem to be very durable in the half or so year that i've used them on my LCR and LCP w/CT ACE-1 holsters.
These holsters do have a generous back side as well. Good for distributing the gun's weight and is very comfortable to wear as it breaks in easily.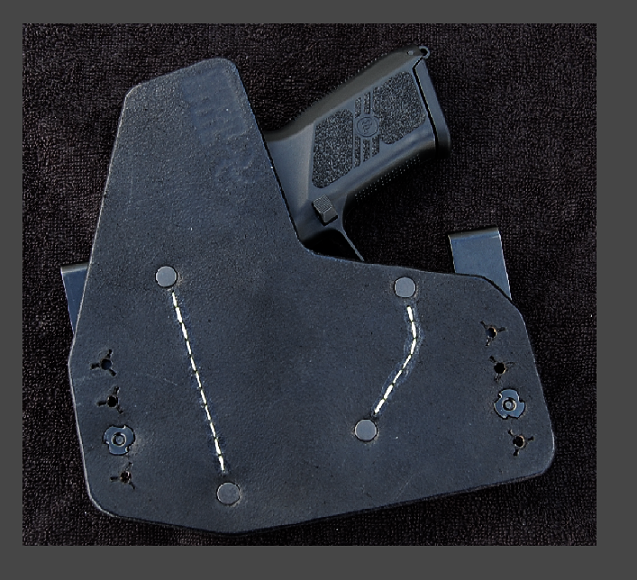 You can see that it has 3 positions for the clips or loops, along with your preference of rake.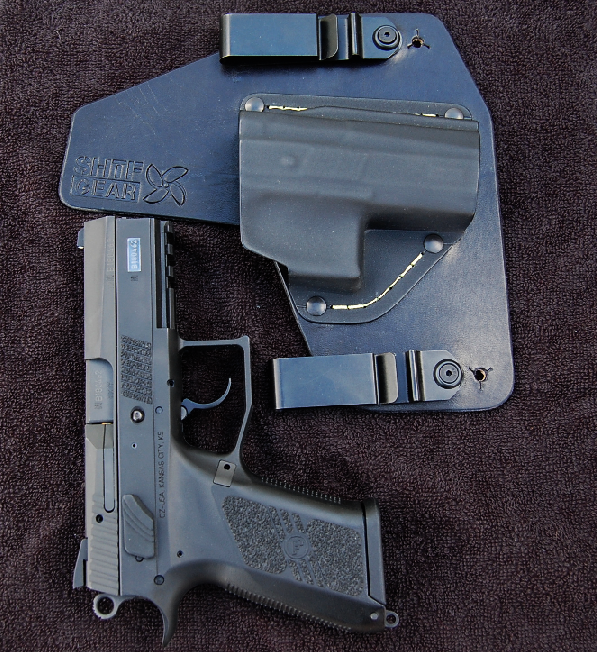 No retention straps or levers to get in the way if you need your P-07 or other pistol/revolver in a hurry!
My own preference for the loops and also adjusting the height of the loops offers me forward rake (or cant) of my P-07 Duty that allows a full grip.
A few trips to Wal-mart and Costco, among other places around town, and I really have to assure myself that I'm carrying/concealing a service sized 9mm pistol.
My LCP with Crimson Trace laserguard slides into the SHTF Holster, and I really have no indication that I'm carrying a gun, other than the slight bulge in my waistband.
A light shirt or windbreaker does the trick to conceal it. That's something I can't pull off with a larger pistol like my RAMI, and or revolver unless my LCR in an ACE-1.
Do other hybrid IWBs cost less than the SHTF ACE-1 holsters? Sure they do.
My hope is that Clay and his crew expand the CZ line to include the RAMI, and also the CZ97B and 97BD. With the advent of offering holsters for the new Glock 42, they pretty much have Glocks covered. I know that when the Glock 42 .380 models come into my Dealer, I'll be looking at buying an ACE-1 for my wife, and one for my Gen 4 Glock 26 when I finally buy another Baby Glock. You can find SHTF GEAR in the Links: